We made it through Passport Control and the airport.  If you have nothing to declare, you can stroll right on out.  It is an option to declare whatever, or just exit.
We had arranged through our accommodation to have a car pick us up at the airport. As it turned out, they had double booked us with two drivers.  Fortunately the first one was the one who "got" us.  His name was Vitor, with Amaral Limousines. I can highly recommend him and the company. He was great with all the tips and tricks and places to go in Lisbon.  He clearly loves the city. He picked us up in a Skoda Rapid Ambition.  It was a very comfortable car.
He delivered us safely to our front door.  He told me we had chosen well in our apartment.  Mike found it online at Lisbon Serviced Apartments.  We had asked for a T2 (2 bedroom) but we wound up with a T1 (1 bedroom) which is about 39 square meters.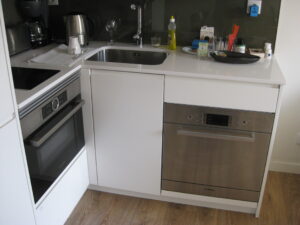 It is more than enough though I had my concerns prior to arrival. An efficiency kitchen with a combo oven/microwave, a dishwasher, a reefer (no freezer) and a 2-burner stove top. It also had a huge toaster, a coffeepot and a hot water pitcher. There is a washer/dryer combo shared with the other studio in our corner. Not a big deal as we will likely only do clothes a couple of times while here.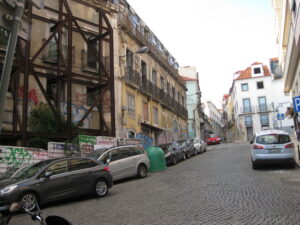 The streets are cobblestone, as are the sidewalks.  The hills are impressive.  Yes, Lisboa is built on 7 hills and we are living on one of them.  We are "downtown". Our building is called "Avenida" and it is at Rua do Tehal4. That is about 2 blocks from Ave Liberdade – the main drag through downtown. That is the street with all the high end stores and hotels.
Once I put that address into Google maps, we found everything at our finger tips. It is funny how everything looks very distant when you look at Google maps. When we actually exited and walked up our street, we found everything we needed.
But I get ahead of myself. We arrived on the opposite side of the street from the entry, but all the cars stopped for us to cross.
It is a very busy, main street even though it is only 2 lanes and no parking.  Having a small car here is a goodness. The streets are small and I noticed that many cars all occupy the same lane at the same time, in the same place.  Organized chaos. Horns blaring a lot, especially during rush hour.  The Vespa is probably the best way to go as one can veer in and out and around when all the cars are stopped.  I have seen bicyclists as well – they look like they might need dental work from their teeth chattering on the cobblestones. There are also "LIME" scooters as well.
We had received access codes for the main entry and our apartment. So in our total exhaustion, we managed to get into the main entry.  There are marble stairs up to the elevator (but no railings). Dragging the luggage up those stairs was going to be the end of me until a nice young man ran down the stairs and took my bag from me.  He carried it to the elevator and welcomed us to Lisboa.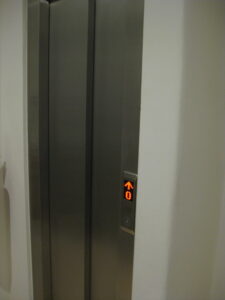 The elevator is a "pocket" elevator. It fit 2 people (sign said max 3 persons) and barely our minimal luggage. It is compact here.
We found our home away from home – Apartment 212.  Again, an access code for the door. It is very efficient.  The lights come on as a person is detected and a few seconds later they go off. Efficiency is the name of this game.
We were very hot, very exhausted and rather out of sorts. Thank goodness there was air conditioning!  It took a lot of effort when there was very little energy left. At this point I had been up 24 hours and counting. A shower was all I could think of, but to do that meant unpacking to get to toiletries, etc. It was worth it in the end though. A hot shower and I felt like a new person. I guess it was a second wind.
We thought a bottle of wine to celebrate would be in order but we could not find a close wine store in our Google searches. We decided to go in search of the elusive store. We turned up the hill and literally right next to our front door is an art gallery which sells wine. Everyone, as it turns out, sells wine and beer here. While we decided on which wines to buy I asked the owner about restaurants and got some interesting recommendations. We will follow up on those recommendations over the next few days.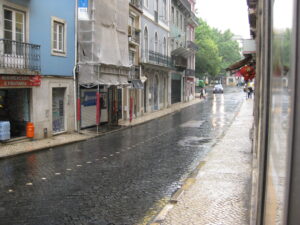 Since the cobblestone hill was intimidating, we turned to go down the hill and immediately bumped into an "all-day (9AM-7PM)" Brunch and Cocktails, called Zenith. Our window is directly overhead of it. It was 18:15 but they welcomed us, fed us "brunch" (since it was 10:15 AM our time, it seemed appropriate), with a craft beer each.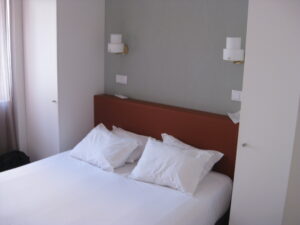 Then it was lights out. We were both beyond tired. Of course it was only 19:30 PM in Lisboa. The bed was exceptionally comfortable, though it is a full size (not king, like we are used to). But it is very firm and the pillows are great.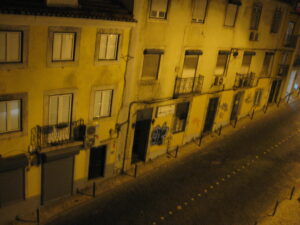 While one might expect us to be out like lights for 12 hours+, at about 1AM Lisboa time, we were wide awake.  The service had left water, teas, crackers and jam in a basket on the counter for us. We decided a "midnight snack" was in order. That meant breaking out the Vinho Verde white wine, cracking open the crackers and jam and having a small feast. It was just what a doctor would order.  The streets were slowly quieting down. Many lights were still on across the street in the apartments. We opened the window and let the fresh evening air in. It was a perfect romantic evening.
About 3AM we were ready for lights out, second act, (even though it was only 7PM at home). We slept till 10AM – very late in the morning for us, but trying to get on Lisboa time is important. Quickly readying ourselves we headed out to find brunch.  Zenith was our first stop, even though it had been our last stop the last evening.  OMG! It was packed beyond packed. We could not believe it. The owner/manager saw us but he turned to answer a question and we decided to move on to find coffee and a pastry. Later we ran into him on the street.  He had reserved a table for us in his loft, but did not get to tell us that.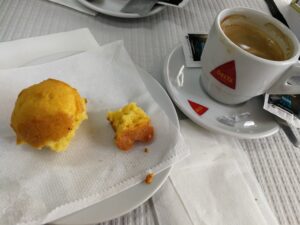 So we went down the street to a pastelaria (Pastelaria Liberdade).  Although it is a place that did not take our credit card (i.e., needed Euros to buy there), the coffee, Um café (order a "large coffee" – it is an espresso with added water), was delectable and the pastry equally good. The pastel de nata had just enough sweetness to make it offset my sudden exhaustion. After that we took a small rest. Then back out to do some shopping. We have a major grocery about 4 doors up the hill.  I will explain the hills:
Much like Rome and Seattle, Lisboa is built on seven hills.  And they are not small hills. The walk up the hill will make a "man or woman" out of you. I am glad I have been working out on the treadmill with a 2 1/5 % incline for the past 6 weeks. This is way more than 2 and 1/2 %.  Whew!
So that wraps up our first 18 hours or so of this exploration/vacation. I think, while I had trepidations, this is a town I could really like.  I have read about how friendly and accommodating the people are. So far that is my main experience.