We took a leisurely afternoon and explored the immediate area around our apartment.  The cobblestones are something else. I saw people slipping and catching themselves everywhere, so it isn't just me and my propensity to fall on my face!
As we ventured first down the hill towards Ave Liberdade, we found a pharmacy to explore. It was interesting in how many facial products there were in glass fronted cabinets that were 9 feet tall.  Three women, one of whom spoke English very well, were friendly and willing to let us just look.  We were not in the store very long but as we went to step out, it was pouring rain. Think of a hard rain in Seattle, and that is gentle in comparison. Of course, I had not looked at the weather and went out with out a raincoat on.  But within minutes it had stopped. Reminded me more of Hilo style rain – raining one minute, sunny the next! We continued down the street to Ave Liberdade. Michael Kors store was on the corner.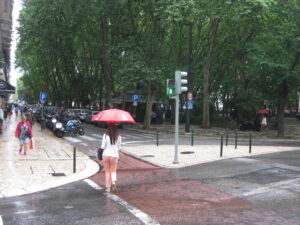 Ave Liberdade is a one way street, a median park in the middle and a one way street in the opposite direction on the other side. The median was wide enough to look like a full-on park. Wow!  It is beautiful.
There were several groups of children in a gaggle, with adult supervision, out on the streets. I don't know where they were going, but several were slipping and falling and I noticed many had skinned up knees. As we waited for them to pass, it began to rain again.  At least this time it was not as hard.
We crossed the street there as there are few crosswalks and people tend to just dodge through traffic. We headed back up the hill, past a lovely little jewelry store (prices seemed very reasonable),  a take-out/eat-in oriental restaurant and several other independent, small stores.
At this point we decided to go to the market. It is only a few doors above our apartment building.  There we found everything from fresh fruit to laundry detergent to jams to breads and cheese.  Nearly everything you could need in a home is there – paper goods, household supplies, frozen items, ice cream and other dairy.  In such a small space they cram a lot of stuff!
We took it easy in the afternoon.  Thankfully we have a decent speed internet included in our apartment. We had some wine with cheese and crackers we had purchased at the market and worked on getting past jet lag. About 1930 we headed out to find dinner. I could get used to this lifestyle!
The first place we checked out was a little expensive for our pocketbook, though with white table clothes and fancy wines.  We trekked on up the hill past an open door that smelled so heavenly, we put it on the potential eatery list and continued upward. We got to the top to an intersection and decided to look down the other street. I almost got dizzy as I looked down the incredibly steep street!
Here is a view of the street: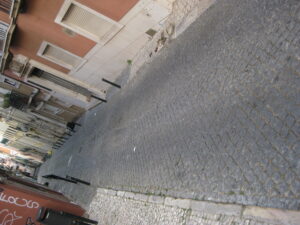 It really does not do it justice. It has a very steep incline!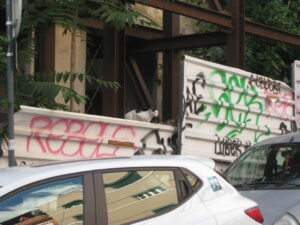 Across from our perch on the street were buildings being renovated. As I watched there was a bit a movement. I realized there were many cats all perched and watching for their evening meal to come by.  I am sure they are all feral. I decided not to become their dinner and turned in the opposite direction.
We did not find anything appealing so we headed back towards the good smells. It was a better than great choice.  A tapas restaurant, named "A Venda Lusitana", located at R. Telhal 75.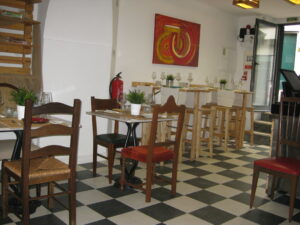 A young couple were running it. She spoke some English, he was nearly fluent. There was one other table occupied with 5 people. The room seated maybe 2 dozen. We had a choice of tables.  The menu was 5 printed pages on a clipboard. The first one was an ala carte; the second was recommended tastings for 2 or 4 people as a package (about 38 Euros for 2 people); the last two pages were wine selections.  Other than a glass of house wine, the wines are offered by the bottle and ranged from 12 Euros to about 50 Euros.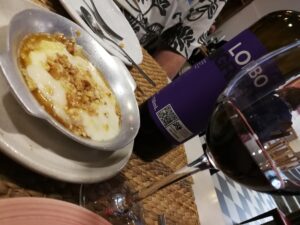 The food was amazing and we will definitely be going back to try more. I ordered the Pork Cheeks in red wine; Mike ordered oven baked cheese with honey and nuts, which came out first. That was utterly melt in your mouth delicious. Then came the pork cheeks. The pork was so tender it nearly melted in my mouth. The sauce was divine. A foodie person would be in heaven here.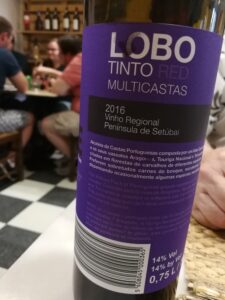 We ordered a Lobo red wine, a bargain at 12 Euros. It was full bodied and went well with the pork, in particular. Still water came by the bottle for 2 Euros; the two tapas were 19,90 Euros.  The entire meal came to 33,90 Euros including taxes. A very reasonable total for a meal.
They take charge cards. (This will be noted where we go in my writing because it is important to come with enough Euros to see you through places you want to shop and eat that do not take credit cards – although many places frequently will take local bank debit cards.)
The little room filled up and while we were there no more than an hour, all but 4 seats were filled.  I am sure they were glad we were quick. People tend to congregate with friends and occupy a table for the entire evening, as I am sure the table of 5 did.  They were there when we arrived and there when we left. I am happy for them that they are so busy. I do not know how late they stay open.
Then we trekked back down the hill, stopping to pickup more wine at the market and then back to our little apartment. A nice evening out. Through the open window the sounds of people reveling was really invigorating. The breeze got too cool to keep it open though.  We finally gave into sleep-land though since jet lag was really catching up with us.
Once again after about 2 1/2 hours, we were wide awake.  These midnight feedings are rather fun.  Again, crackers and jam with wine. It is sort of the "third meal" of the day – we eat breakfast of sorts, then dinner, then the midnight snack. Hopefully our calorie intake is down and our exercise level is up.  It would be great not to gain weight on vacation!
A new day is ready to start.  We are heading back to Zenith for brunch and then we are going to explore the length and breadth of A. Liberdade next.
Check back tomorrow, please.  I hope to be able to blog daily with pictures of our adventures. Mike will be adding his perspectives as he pleases.
Obrigado! (Thanks for reading and following our adventures)