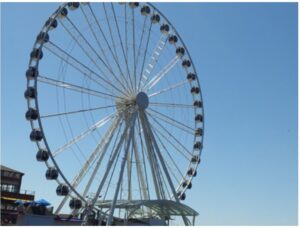 In a collaborative effort, City of Seattle entities, non-profit organizations and Seattle Waterfront businesses are presenting The New Waterfront Festival on Oct. 4th, 2014 to increase awareness and gain continued consumer support for businesses during Seawall construction throughout the fall and winter of 2014/15.
On October 1st, 2014, seawall construction is scheduled to start up again after a summer break, bringing construction to Central Waterfront business storefronts. In an effort to increase public awareness that businesses that will stay open, and to keep Waterfront space active throughout this construction period, several partnering organizations will present a  community-driven festival that will culminate in a 45-minute light show on the Seattle Great Wheel set to the live music of Vaudeville Etiquette.
The event will be filled with showcase performances featuring live music and performance art, including:
ChebonChebon, McTuff, Stephanie Anne Johnson, Geoffrey Castle, Wanz (of Macklemore's Thrift Shop), and a 45-minute light show on the Seattle Great Wheel correlated to the live performance of Vaudeville Etiquette. Music performances will be hosted by Davin Michael Stedman of The Staxx Brothers, and NWCZ Radio will broadcast live from location and will air all music performances, including the Vaudeville Etiquette set so that everyone who can see the Great Wheel can also enjoy the correlated music. Enjoy a salmon bake meal by Fisherman's Restaurant, home-cooked Cajun dishes by Highway 99 Blues Club, family activities, informational and vendor booths, caricatures, balloon art, and much more, made possible with the support of our partners and local sponsors.
Partners of NWF: Alaskan Sourdough Bakery, The Crab Pot, Danley Sound Labs, Dugan's Inc., Elliott Bay Seawall Project, Fisherman's Restaurant, Highway 99 Blues Club, Lyft, Madrona Digital, Metropolitan Improvement District, Miner's Landing, NWCZ Radio, Seattle Antiques Market, Seattle Aquarium, Seattle City Office of Arts & Culture, Seattle City Parks  Department, Seattle Great Wheel, Seattle Weekly, The Stranger, Waterfront Seattle, WittyPixel Productions, and local producer The Vanilla Mustache.  NWF is proud to be sponsored by: Cupcake Royale, Northwest Music Scene, Seattle Antiques Market, Tigerlily Salon, Hub International, NWCZ Radio, Chuckals Office Supplies, and Waterfront Seattle.
Date: Saturday, October 4th, 2014
Time: 2:00pm Festival Open, 7:00pm Light Show & Concert
Where: Waterfront Park
1301 Alaskan Way, Seattle WA 98101
Price: FREE!
For more information:
NWF Website: www.seattlewaterfrontfest.com
NWF Promo Video: http://youtu.be/2rX1QRkJm8A
Click here for Partner Information