It is Thursday, June 6.
While it would seem that everyday we are out tasting the bits of Lisboa and Portugal in restaurants and bars, but frankly, just like at home, it gets a little old for us to constantly be out eating and drinking.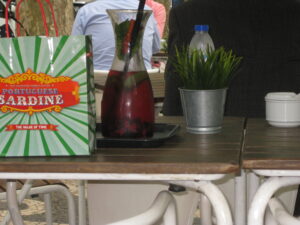 One of our favorites right now are little kiosks in the middle of Ave Liberdade (the median between the streets) called "Banana" kiosks.  They are not "pop-ups".  They are very permanent.  But they sell wine, beer, mixed drinks and a variety of foods.  A beer (cervaza) is 3,50 Euros for a draft pint. 2 of those will get you a plate of peanuts to accompany your beer.  You sit under giant umbrellas (staying dry if it is raining, or staying out of the sunburn area if it isn't). In the late afternoons they show soccer games – whatever is going on in the world of soccer- on a portable screen with ethernet strung over head to stream the game. The down side is it requires cash, not credit cards.
We usually only have one beer each and eat our peanuts. This evening we met a mother-daughter tourist couple – Mom from Florida and daughter living in Manhattan. This is their first trip to Portugal, although they try to travel together frequently. We wound up having a lengthy conversation about where we live, where we want to live, etc.  Then the sprinkles started.  I do not think Lisboans take rain in stride as Seattle-ites do.
Once back to the apartment, unfortunately I missed video-ing an altercation between a taxi and another little car. I came to the conclusion the taxi, being a manual drive, needed to back up to a flat spot to get traction on the wet cobblestones (I know cobblestones in the rain are slippery – I just went to the supermercado and had to really watch my steps – not that I don't, even when it is dry). The horns honking and the drivers nearly getting into fisticuffs was video worthy.  I just missed it.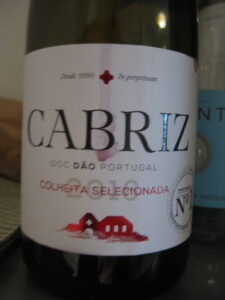 We are trying to hold the line on calories as well as Euros, so fixing tapas here in the apartment seems appropriate. Tonight, since it is raining and the cobblestones are extra-slippery, I will be making salame,  7 cheese mix slices with Dijon mustard sandwich bites. If we want more we purchased a pao com chourico (pastry with chourico sausage) as an additional snack.  We bought a new bottle of red wine – one we have not yet tried. It is Cabriz (DOC Dao Portugal) Colheita Selecionada.  it is a little more full-bodied than we usually drink, but quite good. That together with our usual cheese and crackers with peach jam for dessert will be our evening. We have a pastel to also eat if we get the midnight munchies.
We are almost on Lisbon time.
Today we found the metro station and purchased (with the help of a kind Metro station employee) our personal Viva Viagem transportation card. It works on the buses, trains, ferries, trams, and on, and on. A lot like the ORCA card, you swipe it – only in most cases as you walk through a turnstile to enter your mode of transportation. If you use up all your money on it, it is refillable at almost any station. We expected a plastic card, kind of like the ORCA. But it is a paper card. Very interesting. We walked right past the Metro station because we weren't looking the right way and we were both still a little turned around in our walking. Might expect things and places to be far apart, but they are really quite compact.
Tomorrow we will head for Cascais . We will take the bus to the transfer point (or walk if we can figure that out) and then board a train to see Cascais. I am excited about visiting this locale. Until then….Obrigado for reading!