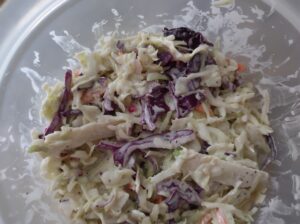 I love coleslaw but I have always taken the "easy and fast" way out with it, buying bottled coleslaw dressing or a coleslaw "kit" in the bag. Now I am a convert – yes, it took maybe 15 minutes to make this coleslaw dressing (and yes, I purchased a 14 ounce bag of shredded green cabbage, carrot and red cabbage, so I cheated a little).
Here's my version of this recipe – a mash-up of several I have tried but none of which ever added up to my expectations. This one pleases my taste buds enormously.
Easiest Ever Coleslaw Dressing

Total time=15M

INGREDIENTS

1/2 cup mayonnaise;

2 tablespoons white sugar or agave nectar;

2 Tablespoons freshly squeezed lemon juice;

1 Tablespoon red wine vinegar;

1 Tablespoon Dijon mustard;

3/4 teaspoon celery seed;

1/4 teaspoon salt;

Several grinds of fresh black pepper;

1×14 ounce bag of tri-color coleslaw mix;

DIRECTIONS

Whisk together all ingredients into a large bowl until creamy and smooth.

Open the 14-ounce bag of slaw and dump into the bowl.

With your freshly washed hands, begin to hand mix the dry slaw with the dressing until it is completely coated. Put into a covered dish and refrigerator for a minimum of 2 hours or overnight for complete integration of the dish.