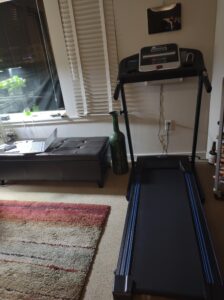 Hubby and I have been needing to reduce calories.  We do not spend as much time on the treadmill as we did before he went back to work.  We try to get our minimum 7500 steps – preferring to make it to 10,000 steps on our Fitbit watches. But it doesn't always happen.  After taking off 40 pounds during the Covid-19 lockdown, I did not like that in the past 6-9 months I have gained back 10 of those hard to lose/lost pounds.
This afternoon I opened the pantry doors to see what I could come up with for dinner.  My eyes lit upon a 5 ounce can of solid albacore tuna in oil (my preference is solid and from Bumblebee).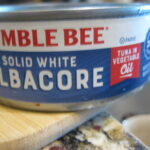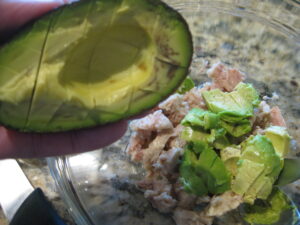 Then I headed to the refrigerator. I did not want to use egg nor mayo in this concoction.  I remembered there are a couple of small Hass avocados in the back of the produce drawer, so I dug one of them out.  Then I remembered I had thinly sliced a sweet yellow onion recently on the mandolin (my favorite tool of choice for evenly thin slices of vegetables). I had also mistakenly opened a can of small white beans (did not look closely at the label) when I was intending to open a can of garbanzo beans.  I had drained and rinsed them so I put them into a container in the fridge.  These would go nicely with the tuna and avocado. I noticed a half lemon wedge on the top shelf.  That would work nicely for keeping the avocado from turning brown before dinner.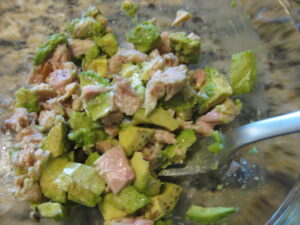 So out came a medium mixing bowl, opened the can of tuna.  I left the oil in because I wanted the additional flavor and moisture.  Chopped a little bit of onion and sliced open the avocado.  I like to score the avocado meat in diagonal directions and then scoop the meat out with a spoon.  This leaves the avocado in bite-sized chunks. I added the lemon juice, salt and pepper (several twists of the grinder for fresh black pepper).  Stirred it gently and tasted for flavor and texture.  Perfection!
When served as a side to a romaine, arugula & bok choi lettuce salad (no additional veggies, like chopped radishes, carrots or croutons & cheese), this side enhances the lettuce without overwhelming it. I make my own buttermilk ranch dressing (using Penzey's spice combination with buttermilk and mayo).  It blended well with the tuna and avocado side.
Here's my recipe:
Ingredients

Tuna, canned in oil

Avocado – 1 small Hass

Lemon juice, freshly squeezed from 1/2 medium sized lemon

Onion, sweet yellow, 1/4 of a small onion, thinly sliced 1/4 inch thick

Salt

Pepper

Beans, white small, 1/2 of a 15 ounce can

Directions

Equipment needed: medium mixing bowl, can opener, spoon, sharp knife

Step 1

Open the can of tuna (leaving in the oil)

Step 2

Dump it all into a medium mixing bowl

Step 3

Chop the onion

Step 4

Slice open the avocado (score the avocado meat in diagonal directions and then scoop the meat out with a spoon.  This leaves the avocado in bite-sized chunks)

Step 5

Add the lemon juice, salt and pepper (several twists of the grinder for fresh black pepper).

Step 6

Stir together gently

Step 7

Taste for flavor and texture – add salt or pepper as needed to taste
Check out some of my other posts about recipes, cooking, Covid-19 lockdown and more:
---
Related Articles