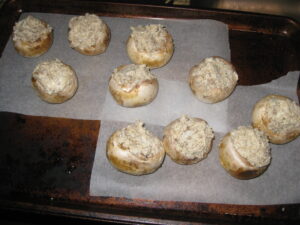 Having received 24 ounces of rather large white button mushrooms, I took 10 of the roughly 20 mushrooms and made a great little afternoon snack for my husband and I.  The stuffing can be made of pretty much anything you have in the refrigerator as long as you stick to one or two basics: softened cream cheese and bread crumbs.
Stuffed Mushroom Caps

INGREDIENTS

10 white button mushrooms, stems removed (set aside)

Mushroom stems, very finely chopped

4 ounces cream cheese, softened at room temperature

1/4 cup Italian seasoned bread crumbs

1/4 cup Parmesan Cheese, finely grated

1/4 cup finely minced onion (preferred sweet like Walla  Walla)

Healthy sprinkle of Penzey's Italian Blend spice mix (or your favorite brand of spices)

1 egg, raw

DIRECTIONS

Pre-heat oven to 350 degrees (F)

Clean the mushroom caps thoroughly and gently remove stems.

In a small bowl, roughly combine softened cream cheese, egg, bread crumbs and spices.

Finely mince mushroom stems and onions. Add to the small bowl of mixture.

Thoroughly combine the ingredients (takes some strong effort with a fork to get the mixture completely combined).

Add in grated Parmesan cheese to finish the stuffing.

Fill each mushroom cap with the mixture – overflowing the top of the cap.

Place on parchment lined sheet pan.

Bake for approximately 15 minutes (watch closely for over cooking)

Sprinkle more parmesan cheese on top of the caps and place under broiler for 3 minutes.

Cool slightly, serve warm.

TIP: While these temperatures in the baking and broiling mode worked for my oven, check your foods for cooking faster or slower as not all ovens are created equal in their accuracy.