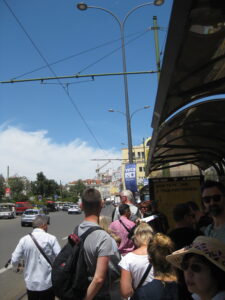 Saturday we queued up for Remodelado Tram #28 at Martim Moniz to Campo Ourique (Prazeres). The route goes through Graca and Alfama, as well as connects Baixa to the Estrela District. We took it both ways. Fortunately there are trams every 15 minutes and sometimes more frequently. Seating will accommodate about 30 people, but there are people constantly getting on and off, so at times the tram probably held twice that many people standing as well as sitting.  We timed our entry into a tram to be one of the first 12 people on so we got great seats.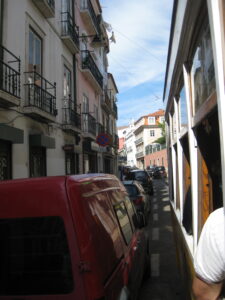 I took about 150 pictures out the open window.  WARNING: the trams runs close to the buildings, cars and the other tram going in the opposite direction. You have to peer ahead carefully before sticking out your head or arm. It does not go slowly a lot of the time so it can be risky .
It has great brakes, so if you are standing, hold on tight!  It screeches and rattles through the street but it is the cheapest, best way to see the areas.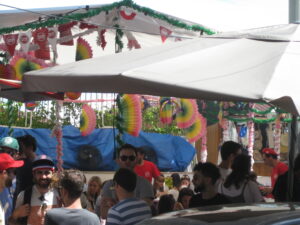 Board at either end so as to be able to get a seat. It may have been more busy than normal because of the festivals, but those made for great entertainment as we rode along. Music, the smell of foods cooking in the open air, the views flowers and colorful streamers, very festive!  I had a blast!  I wasn't walking so I didn't have to worry about falling and I had the opportunity to look around everywhere!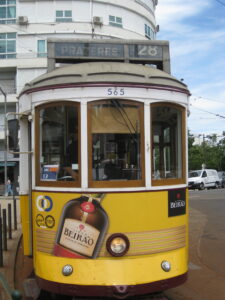 We took time for a couple of small beers at the top at Campo Ourique (Prazeres) and watched the trams come and go and fill up and leave. Finally we queued up and back down the same way, but viewing the other side of the street. When we got back to Martim Moniz, we walked back to Liberdade and to our apartment.  The streets were jammed with people. It had to be the festival, besides being a Saturday.
It feels like, when looking at a map, that it is a long way to everything.  But it is not.  The town is very compact.
Please comment below if you are enjoying reading about our adventures. Or, better yet, subscribe to this blog so you get updates when they are written.