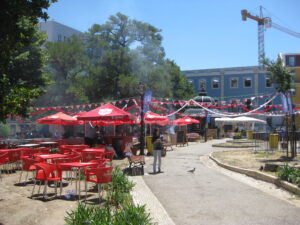 This whole time of our vacation, all the festivities seem to be leading up to the 12th of June – St. Anthony's day of honor. I have been reading up on this since we came here not knowing about it. St. Anthony of Padua (12 th Century) is the patron saint of Lisbon. He was originally from Portugal but spent most of his life in Italy. However, the Portuguese are proud of his heritage.
He was a patron saint of the poor, sick and disadvantaged, the single person in love (he was known as a matchmaker)as well as of  lost items. He had many miracles attributed to him while alive and was quickly canonized by the Church after his death.
One of the most striking things I saw in the preparation of this festival time was pots of a plant called (by the Portuguese) Manjerico (a type of basil with small leaves and a strong sweet odor). At my favorite outdoor bar (Bananas – at the corner of Ave. Liberdade and Sao Jose, in the median of the avenue), one of the men had me pat the plant. The palm of my hand smelled like sweet basil for several minutes. The plants are sold with a paper carnation in them which can contain a love note and is given to your object of desire as a symbol of your love. It is best to pat the plant because sticking your nose into it will kill it.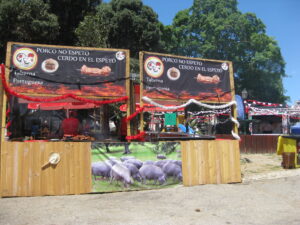 It is said – though I have no proof – that the Portuguese consume a large number of sardines every second during this time.  The number varied by the teller, but 13 seemed the lucky number. Sardines were associated with the poor as an affordable source of protein, hence the festival celebrating St. Anthony as a patron of the poor. He took a vow of poverty as a Franciscan priest.   The smell of grilling sardines is strong in the air.
This afternoon/evening (I have not been able to nail down a start time – so I will call it starting on Portuguese time) – there will be a parade  of the neighborhoods. There will be judging and one neighborhood will get the award of being best represented. Since we are less than 100 meters from Avenida de Liberdade, we will be watching the  parade avidly. Said to contain colorful floats, dancers and muscians, I will make every effort to document as much as I can.
TIP:  If attending the parade or the festivities, take only a few Euros in your pocket to buy your food and drink and nothing else. Leave all vauables, charge cards (no one will accept a card anyway), IDs, etc. at home or in a safe place.  The pickpockets will be working the crowd. It should be noted these pickpockets are not Portuguese, but rather imported from other countries as professionals to do their work. 
Since St. Anthony is the patron known as the matchmaker for singles, at one time a former newspaper sponsored marriages for couples who could not afford to marry. I have been told that up to 16 couples will be married today as a part of the celebration, chosen by the city counsel as part of an annual competition. Those lucky couples get the entire package – clothing, rings, honeymoon, etc. for free. They are then a part of the parade.
From 9 PM Ave. de Liberdade is closed to traffic and will be filled with dancers and parytgoers. This supposedly goes on until morning.  Since we have an early pickup to the airport, this is going to be interesting.  June 13th is a bank holiday, allowing for recovery from the partying till the sun comes up.
I guess if we have to leave (not that we want to), this is as good a day as any to make the break from the immersion into the Portuguese life we have been experiencing. 🙁