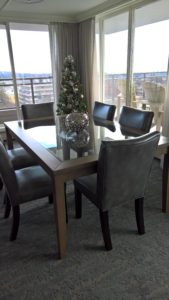 I seem to have a resistance to Christmas in December (I find that Christmas songs float through my head in July though). The one way to avoid the Christmas decorating, cooking and eating is to go somewhere else rather than be home for Christmas. One of our favorite places to spend Christmas is in Victoria, B.C. We have our favorite hotel, our favorite room in the hotel and our favorite eateries and shopping there.
Chateau Victoria is up the hill and sort of "behind" the grand dame, the Fairmont Empress. We love our room on the 16th floor.  And in 2017 they lived up to our expectation, yet again.  As we walked in, the Christmas tree was decorated, lighted and awaiting us in its usual corner.  As darkness descended, the Christmas lights came on all around us and the night was alight with holiday glow.
On Christmas Eve the snow began to gently waft down onto the large deck, almost obscuring the Christmas lights from surrounding buildings.  With our fireplace, dinner from room service and the Christmas tree lights, it was like being in a cocoon of warmth and love. Very romantic – a great way to experience Christmas Eve!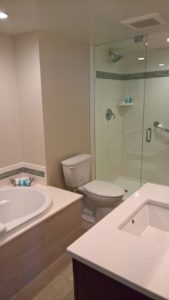 While they had recently renovated our favorite guestroom, the bathroom was still like the last time we had visited.  It has a marvelous shower – good flow from the shower head. It was inspirational to us as we are thinking of remodeling our own bathroom and this one has many attributes we could copy.
We also enjoyed Christmas day Brunch at Vista 18 – located on the 18th Floor of the Chateau.  Reservations are required for that brunch.  We got in earlier than a lot of the local folk. It was worth the price and we did not have to go hunting for a restaurant that would be open (most close to give their wait staff the morning off). The view is spectacular and the food was hot and delicious.
Some of our favorite haunts are Bart's (Bartholomew's Pub) across the street. Then there is Chez Cora's for breakfast, across the street and up half a block. For your wine (and/or liquor) needs, 2 blocks up the street has the Strathcona Hotel's Wine and Liquor Store.  They are open  365 days per year, with limited hours on Christmas Day.  They have a great prosecco for 20 dollars Canadian that holds its fizzy even with out a top on it – great for mimosas on Christmas morning before going up to brunch! Seven-Eleven is around  the corner for orange juice, snacks, cereal and the like.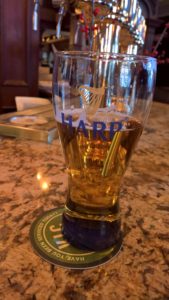 One of our favorite things to do is walk around old town and China town for shopping and eating out.  The Irish Times Pub is a must stop for some Harp. The food is really good there as well.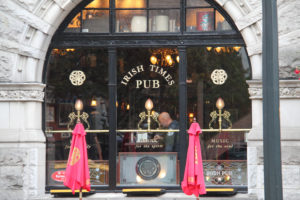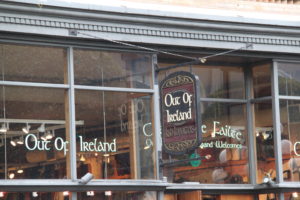 And Out of Ireland is where I first found the "Grandfather" shirts from Lee Valley Ireland and the Jimmy Hourihan's Irish wool capes – perfect for weather in Victoria as well as at home in Burien/Seattle. (more about that in another post).
All in all, a very satisfactory way to spend our holidays – without the decorating, cooking, entertaining with resulting cleanup and putting away.
Romance, travel, good food and a break away from the daily grind. How much more could one ask for?