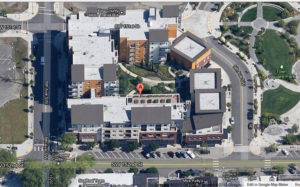 I "retired" in 2012-13 from both my travel agency and my social media marketing consultancy. We bought a condo in Burien WA in 2013 and the move was strenuous and complicated. From making the offer to closing to moving and settling in, it was not an easy transition.
I knew I wanted to be involved with my new community so I put my name into the hat for a Board of Directors position.  The first time I did that (still a Declarant Controlled Board), I lost to another candidate.  But there were two more seats coming up in a couple of months, so I got better prepared and did it again. Getting prepared for a position, volunteer or not, is really important.  Community Association Institute (CAI) offers a number of classes and lots of publications for owners to educate themselves about living in a common-interest-community (C-I-C). I took an online class and read a number of their publications. I was elected to the Board starting March 1, 2014. I served as President (and as temporary Treasurer-4 months in 2014) until February 6, 2018. That was 48 Board meetings I presided over.
Highlights of my leadership time included leading the Association through transition from Declarant to Resident Controlled Board, adoption of a reserve study and funding options, construction defect study (phases I, II and into III) and numerous contract changes to suppliers of services to our property – such as community management representation, janitorial, landscape maintenance, elevator maintenance and more. One of the more memorable highlights was determining that the Association was owed moneys from the Declarant and negotiating a settlement with the Declarant that put the Association in the position to improve the property with roof anchors (cleaning and painting of exterior and windows was now available for the property) and adding keycard readers and surveillance cameras to the exterior of the property.  This allowed us to become a "keyless" entry with controlled access. The settlement also left us in a positive cash flow situation right up until I left the Board.
There are always a lot of opinions expressed about the activities of anyone who accepts a leadership role, whether in a small HOA or COA or at a larger governmental or corporate level.  I learned that one must have a thick skin because no matter how much thought, research and analysis goes into a decision, there is always (and I do mean ALWAYS!) someone with another opinion who would do it differently or can and will find fault with the choice made.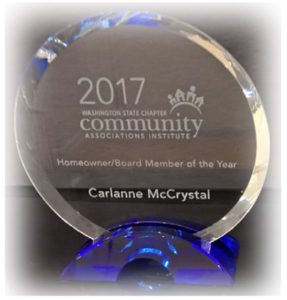 Towards the end of my tenure, in late 2017, I was honored to receive, from the Washington State Chapter of CAI, the 2017 Homeowner/Board Member of the Year award. That meant a great deal to me at the time and even more so now that I am once again retired, this time from our Association Board.
I learned so much about facilities management, infrastructure, politics and corporate leadership and management that while this was an unpaid, volunteer position, I was enriched by the knowledge I gained.
Additionally the friendships that formed with the vendors, professional service providers and some of my neighbors have been so rewarding that I would not trade the experiences for anything.
On the flip side, there were those hair-raising moments of crisis management and the grief that came from the meanness I experienced from some members of the community,  but they were just small bumps in the road to the rewarding experience of those four years on the Board. 
I would recommend it to anyone who is living in a common-interest-community (C-I-C) whether HOA, COA or co-operative. Become involved with your community and take the leadership role. It is an important contribution to your own well-being as well as that of the community.
Now, I am back to retired. My days are fairly full and exhausting but I think I will enjoy this second retirement even more than the first. As I explore this new found freedom of not being on call 24 X 7 X 365, I am going to blog my choices and experiences here on this site. I don't really care if anyone reads it. It is my legacy to myself.
What do you do in your retirement freedom to fill the days? Have you worked as a volunteer during your "retirement"? Have you thought about serving on the Board of your community if you live in a C-I-C? What were your experiences? Please let me know your experiences with a comment below.