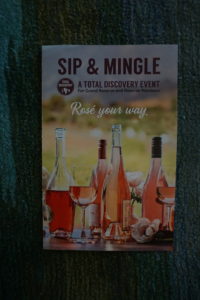 Last Thursday evening, April 5th, my husband and I attended a "Spring Fling" (AKA) "Sip and Mingle" at our local Total Wine & More store.  It was also known as "A Total Discovery Event" for Grand Reserve and Reserve Members. Interestingly, we learned that Rosé can be made using almost any red grape. Since a wine's color, tannins and much of its flavor come from the skin of the grapes used, the style of any Rosé usually depends on the amount of time skins and juice are left to soak together after the grapes are crushed. Winemakers crafting Rosé only keep the skins in contact with the juice for a short time – 12 to 36 hours, instead of the days or weeks for most red wines.
The wines we tasted, since it is Spring, were Rosé and a few heartier reds. The first one as we entered the room was Levert Cremant de Bourgogne Rose. It was excellent, though outside our normal price range at $17.99 per bottle (use the Mix6 discount and it is $16.19).
Next we tasted Olema Rosé  Cotes De Provence 2016 (Provence, France)  said to pair beautifully with grilled fish such as salmon or tuna and stir fry. It was ok, but the first one had already won my heart….and taste buds.
From there we worked our way through Patterson Forbidden Rosé, a Columbia Valley Washington winery. Deemed Crisp, Strawberry, Floral, Medium-bodied.
Next was Kaia Rosé 2016 from Monterey County, California. A bright pink color with aromas of cherry blossom, tea cake, ripe wild strawberry  and peach frosting with a lively, fruity medium body.
Bougrier Rosé  d' Anjou 2016.  This one I liked reasonably well. From Loire, France this crisp refreshing blush hails from France's best terroir for fresh wines, The Loire Valley. This is a light-bodied wine.
Dom Pignard Beaujolais from Beaujolais, France, the wine is a fragrant and floral bouquet leading to flavors of red fruits and hints of spice. This one was my second most favorite. It is a medium-bodied wine. I have always been a fan of the Beaujolais wines – since the 1970s. Definitely on my list for purchase.
Coelho Atracao Pinot Noir 2014  from Willamette Valley, OR – I think my husband is the Pinot Noir  connoisseur of our family. This wine is termed as elegant, Cherry, Cedar and medium-bodied.
Last was Dom Belland Santenay Charmes Rouge 2013 from Cote de Beaune, Burgundy, France. Concentrated, Cherry, Licorice and medium-bodied.  Being a person of lighter tastes, this one was not for me.  But for those who like the concentrated taste of cherry and licorice, it could be just the bottle to pick up.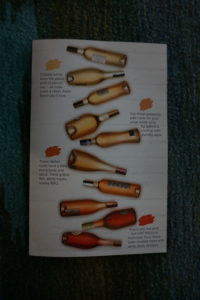 This was a delightful way to spend the hour after work, unwinding, meeting new people and tasting wines we probably would never have otherwise tried.
** I recommend trying out the wine tastings at your local Total Wine and More.