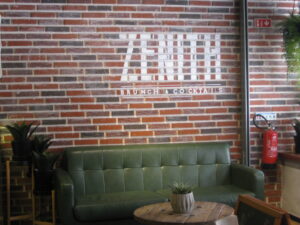 Directly downstairs of our accommodations is a lovely little restaurant called Zenith.  We went there out of convenience the first night we were in town.
The next morning we were going back but we got there right at 1100 and the place was mobbed, with a line out the door.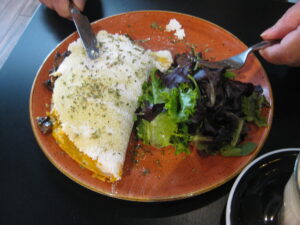 The next day we went late – after 1230. The food is really delicious and wholesome. A mixture of very healthy to very decadent. The photo is of a Tapiocas, an Abaca Tapioca (7,50 Euros). Instead of a wrap the tapioca is dried and folded into a wrap like mixture. Very light. Mike had a latte (2,50 Euros) with his breakfast.
Then I had an egg and bacon pancake (7,00 Euros) .  That was interesting in that the bottom pancake is about 1/4 thick and made of cornmeal.  Then a thick slab of cheddar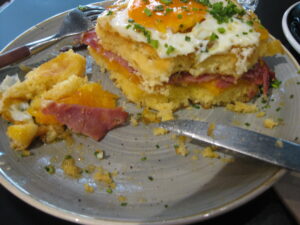 cheese followed by an immense amount of bacon, the second pancake and an egg fried sunny-side-up. I had an Americano (2,00 Euros) which is really a double espresso with some added water to make a small cup. So much caffeine, so little time.  Total bill came to 19,00 Euros.
Today we went again out of convenience. Mike had some work to do and I was writing so although we got up on Lisbon time for the first time, we did not get to the front door of Zenith until 1045. There were still a few tables open, so we got lucky.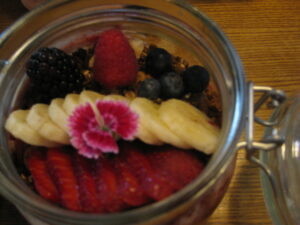 Today's choices were: Mike had a homemade granola (5,50 Euros) and another latte (2,50 Euros).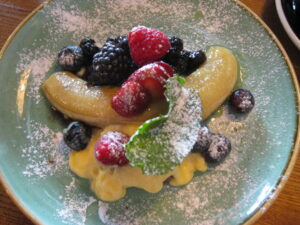 I ordered a banana bread (6,50 Euros)  with fresh fruit, blueberry compote, cream fraiche and a sprig of mint with an Americano (2,00 Euros).  This was very sweet because the banana was baked like a plantain. Very delicious. The bread is hidden by the fruit but it was very plain and not sweet.  A nice counterpoint to the sweet fruit.
All these are very reasonably priced as well so the total bill was 16,50 Euros. I am quite sure I will be adding Zenith, Part 2 in a few days since we are drawn back by the warmth and friendliness of the staff as well as the really good food.  The staff now knows and recognizes us, right down to our eccentricities (such as handing me the receipts and handing Mike back the credit card).  Everyone seems to genuinely like their jobs and are smiling and teasing with the patrons and each other. Makes for a really pleasant dining experience.
(Highly recommend!)