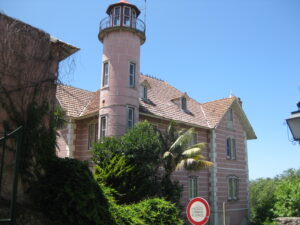 When we went to Sintra, not long after our arrival in Portugal, we wandered the village, looking at the houses, homes, Airbnb and shops near the train station. I was not as on top of my game as I would have liked in order to be able to enjoy the town.  But I was hungry and thirsty. We had a late start on the day as well.
I was sorely disappointed to find Ben and Jerrys ice cream prominently displayed, as well as Pizza Hut 🙁 but that is the influence the US has on other locales.
Finally at the far end of the area surrounding the train station, we found a place with a sign that said only "Sabot". It was harshly bright outside and the entry to this was very dark with a winding stairwell equally not well lit. I was not feeling terribly sure of my footing as we rounded the staircase half way down.  I opted to enter a well lit but sparse room in which the main attraction was a pool table. (How they got that pool table into that small room from down those tight and dark stairs is still beyond me!)
Sabot Lucky Burgers is the name of the restaurant. That is it. Even if one descended all the way down the dark, tight stairs, all one would do is come out onto the lower street level.
There was a bar with a gentleman behind it and a kitchen behind that with another fellow (cook?).  We order Super Bock (beer) and a dish of potato peels. Yep, you read it right – potato peels.  Straight off the Yukon Gold potatoes and deep fried.  Salted with sea salt and served with "Truffle Mayonaise".  He swore he hand-made his dip, but I don't really think that was totally accurate. It was delicious though with the potato peels.  We had two dishes of them.  Then he gave us potato wedges "on the house" with additional mayo. We had 3 beers (9 euros) and the two potato peel dishes (3 euros) for the grand total of 12 Euros (cash required, no credit cards).
The funny part was there was a movie on the "big" screen TV – a projection screen TV, maybe 70 inches? It was sub-titled in Portuguese and silent otherwise. It was the 1994 Sandra Bullock and Keanu Reeves "Speed". We both knew the movie well enough that even with the Portuguese sub-titles, we kept up with the action.  We were enjoying it so much, the man at the bar began to interact with us a lot.  He is a real big Keanu Reeves fan.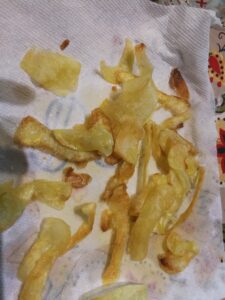 Here is my version of the potato peels, as I not only did the peels but the whole potato – kind of like potato chips but better! I also made the truffle mayo (also not from scratch but very good!)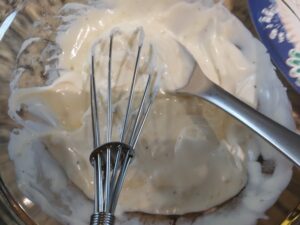 The trip by train was educational as this was our first attempt at transferring from the Metro subway to a train.  It worked out fine.