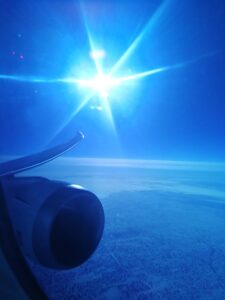 So as much as I can hardly believe it, we are on a plane to London Gatwick to pickup a flight from there to Lisbon, Portugal.  It seems like a dream.
A few years ago I got a bug about Mike actually retiring and us having a life. Sadly it is not going to be the kind of life I was picturing in the good ole US of A, not in Burien. I thought 6 years ago, when we moved to our condo, it was the last place we would live.  But as costs have soared, I am no longer sure of that possibility. Certainly other countries could make it easier for our retirement.
I found International Living and started reading it, as well as getting electronic newsletters.  I had a pop up on my news feed in my browser about the best places to live on less than $3000/month and $200,000 in assets.
Portugal popped to the top of my desirability list.  I researched many places but I kept coming back to Portugal as being my "great adventure".  So here we go to check it out!
When hubby landed a nice 6 month contract ending on May 31, 2019, I thought, "This is it!"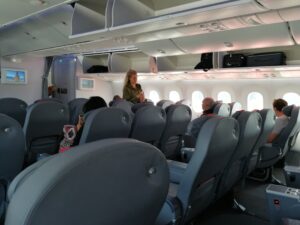 It was "Book 'em, Dano!" He really wanted to experience a "Dreamliner", so we booked Premium Flex on Norwegian Air.
I still didn't believe we would get on the plane and actually go. Yet, here we are. The air is paid, the accommodations a done deal. Ground transport from airport and back – DONE!
I had ordered a 21 inch spinner carry on that flight crews use. Once I  had that in hand, I test packed my clothes.  It worked. Then I packed Hubby's clothes and it all fit.  Next I found myself a backpack from the same manufacturer.  We are doing this 2-week trip with nothing more than a carry-on and a backpack each. It is amazingly emancipating!
Right up until we boarded the plane, I was expecting it to fall through. We packed on Saturday. On Sunday morning, we walked over to the transit center and boarded the ST560 bus to the airport.
After we disembarked the Sound Transit 560 bus, we went to the check in as online checkin is not allowed for this airlines and we have to do it there at the airport.  But it was a piece of cake because they had a line just for "premium flex" passengers. And that is how I booked us. <smile>.
Then we went to "The Club at SEA". As Premium Flex passengers we had free entry. There were love seats, chairs, tables – a small buffet of sandwiches and salads, a soup table and coffee/tea and lemon water as well as a bar for beer, wine and cocktails.  All complimentary.
Since we had not eaten prior to leaving home, the food and drink was very welcome!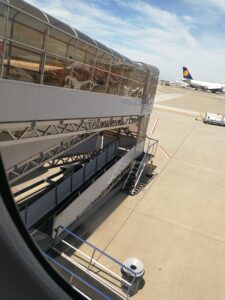 After about 2 1/2 hours in the lounge we proceeded to our gate, just a few steps away. They began to board us a full hour early.  Then we realized why. We had to board a bus to get to the plane.  But it was cool. There was a long ramp to walk up.  But it was good exercise after all the food and drink consumption.
We turned left to the Premium Flex section and found our seats – plenty of room for our carry-ons.
It can be problematic, however.  The gentleman (and I am going to use the term loosely) in front of me immediately reclined fully.  This left me with room to wiggle my torso around in the seat but to stand up or move…well, not so much.  He was not necessarily overly cooperative with allowing my ability to move out of the seat, even to use the facilities.  I had a lovely window to look out and a never setting sun. He complained that I did not darken my window because the sun reflected into his glasses from behind. I pointed out that if he reclined slightly forward, he would be out of the sun's reflection and I could move about.  But, alas, no such luck.  In desperation about 7 hours into our flight of nearly 10 hours, I used my athletic abilities to crawl over the arm rest – a  substantial one that contained 2 screens and various audio controls – to go visit the facilities and move around a little.
The safety factor of so much recline is something Norwegian might want to address.  If we had a problem and I needed to exit my seat….well, good luck. However, I survived it and am writing about it.
There were no emergencies in our cabin.  But for the first time in all my flying years, there was a problem in the economy section. There was a "disturbance".  That is how the flight crew addressed it. We had two people move suddenly into our premium flex area. They looked perturbed.  We finally came to the conclusion they were asked to move forward so that they could vacate a row for an out-of-control passenger.  I will only describe this from the standpoint of being asked to stay in our seats while 4-5 policemen escorted the perpetrator off the plane.  He was in handcuffs behind his back, which they cut loose and placed theirs on him.  Big escort off plane.  Then we were released as well.  But we taxied just about all the way around the airport at Gatwick to as far as one can get from the main terminal. A long walk when one is already exhausted from flying 10 hours.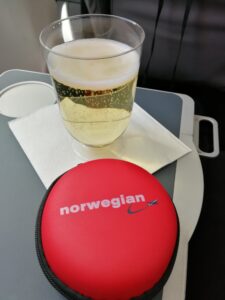 We had been wined and dined to the max on the flight (although breakfast was a little weird – the flight attendants were so harried by the "disturbance", they almost forgot to give us our breakfasts – and forgot to give us our coffee or juice until we were nearly in touchdown mode). It was tough on them to have a "disturbance" on board.
Norwegian provided excellent service over all and we were satisfied with the flight and its amenities. The on-board monitor at each seat had a nice selection of offerings.  We could order snacks and drinks and have it brought to our seat by an attendant.  It was different from the usual carts in the aisle. A very pleasant flight over all.
Once we found our way to the S terminal where our connecting flight would be, we had to clear security again (we had gone outside the international area to off load this miscreant).
That was way more thorough than our TSA scanning. Take off shoes, take liquids out; luggage really gone through. Interesting.  Since we have TSA Pre-check and Global Entry approval we aren't used to such rigor. But we got through all that with hours to spare.
This meant we needed sustenance for the duration. Breakfast was not on the agenda for us – it was midnight at home. So we went into the aptly named "BAR" at Gatwick. An Imperial Pint of Budweiser was breakfast of choice.
Our flight was at 10:35 AM. It was 8 AM. They would inform us of our gate at 9:45 AM. Most airports with that kind of timeframe would be cause for a heart attack. But it works at Gatwick. All the stores seemed to be "Duty-free", but my heart was not in it.
Then we went to our gate (#1) to board our flight (2 hours and 20 minutes after takeoff) for Lisbon. We were the last group to board but by buying seats in advance, it is well worth it! We chose 2 seats up front by where a flight attendant sits during landing and take-offs. The seats are small and hard. Once we were on board, they announced our flight had been delayed by 35 minutes at the gate.  So there we sat. We were really tired. That may have been the longest 35 minutes of my life….or maybe not.  Once we pulled away from the gate, it took another 30 minutes in line before we got clearance to take off.
But we got through it.  We landed in Lisboa in right at 2 hours and 20 minutes.  We taxied a long ways and finally were allowed to leave the plane.  You have no idea what it took to get me off the plane!  I had a heavy backpack and a realtively heavy carry-on — and they had pulled stairs up to the plane.  I got to lug all that down rickety stairs. UGH!  I was so unsteady on my pegs, it was scary. A wonderfully sweet woman came to me and took my carry-on from me and walked it down, which left me free to make it speedily down the rickety stairs. Then on to the bus to transport us to passport control. Yep, another bus.
Passport Control was marvelous. A line of several hundred people winding back and forth until you get to go in front of an official.  He looked at me, at my photo in my passport and stamped it with a giant smile and said "Welcome to Portugal!" He seemed to genuinely like his job!
We walked out as I texted with our driver on WhatsApp. We were being picked up and taken to our apartment – but that is another entry a little time from now.