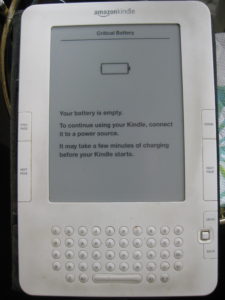 I buy pretty much all my books on Amazon for reading on one or more of my Kindles. Yes, I have more than one. Actually, I still have (for old times' sake) my first Kindle. It will still charge up, but mostly it just sits on the shelf. Very plain, but for nostalgia's sake, I still have it.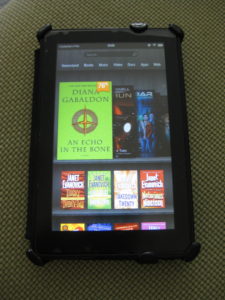 My first 7-inch "Fire HD" is now about 7 years old (purchased September 2011); I bought the larger one two years later. And another a couple of years after that.  Now I am back to reading on the first one because it fits in my hand so well. Battery life is not what it used to be, but I can still go a couple of days between charges. And it fits in my purse, the pocket of my cape or in my computer bag. It can go anywhere with me.
I have the Kindle "app" on my computer/tablet so I can read on it if I choose to. Finally I have the Kindle reading app on my phone so no matter where I am, I can pickup the book I am reading and keep on keeping on.
I also have the Great Courses Plus app on my phone which is great for a bus ride or at the gym or sitting alone in a coffee shop or restaurant.
My noise cancelling headset is the big blessing – when there are loud people on the bus on their cell phones or talking loudly to one another – I just grab those and slide the button to noise cancelling and it at least dulls their noise.
I had a Microsoft Windows (by Nokia) Lumia XL smart phone. It was a love/hate relationship. The phone itself, I loved. There were just so many apps I was missing  out on. When my frustrations grew to gigantic proportions, I purchased a Huiwei (How-we) Mate 9 Pro.  This is an Android phone and very different from the Windows phone.  I have been adding apps and spending a lot of time with it, so we are slowly becoming friends. It can take up to three months before I feel really friendly towards a new phone.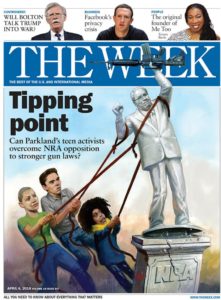 My latest reading material passion has been a magazine I get weekly in the mail.  There is not much advertising so it is chock full of news.  It is called "The Week". The editors curate the news of the week from the US and around the world. There are so many fascinating sections  filled with everything from art, music, book and television show reviews to the best columns from around the U.S. and the World to travel deals and steals with recommendations.
One of my neighbor's favorites is the "Homes" section. Each week there are different specific geographic, style or version of homes for sale all over the US. There are satirical cartoons, editorials and so much more. The last article each week is called "The Last Word" which features some of the most interesting and unusual topics. I savor every word, every page of this magazine. I try to make it last until the next one arrives. After I finish it (sometimes reading some articles or tidbits more than once), I pass it on to one of my favorite neighbors, who after she reads it, passes it along to another favorite neighbor. The magazine probably does look like a rag by the time it passes through so many hands.
Another magazine, which a neighbor leaves in the mailroom when they have finished reading it, is "Wired". I am lucky someone else gets it and is willing to share. Also being shared in the mailroom is "Rolling Stone" magazine. I devour these whenever I find them in the mailroom.
Please share your favorite apps, devices and good reads by making a comment below!